"Smart prosecution equals safer communities, and moral prosecution equals a fairer society that nurtures the worth of all people regardless of identity, economic status, and zip code."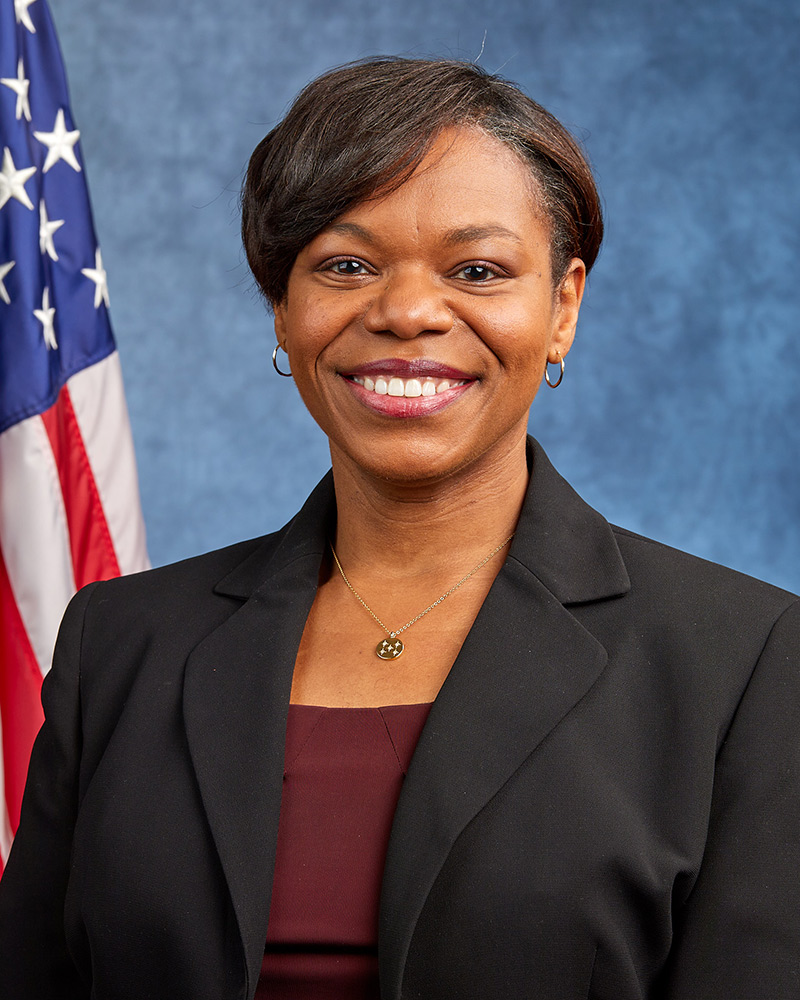 From her high school speech team to law school, from private practice to public service, and a stellar career defined by personal conviction and professional compassion, Fayette County Attorney Angela C. Evans is a Lexington native devoted to serving the people of her community with accountability and a commitment to equity.
Angela is not concerned with being the first to ascend to the top. But, she is a civil servant most of all—guided by her ethos of respect for others and one standard of justice for all—she believes it is time to put people first. She has the vision to transform the Fayette County Attorney's Office into a fairer, more forward-thinking organization focused on strengthening public trust, promoting accountability and transparency, and proactively supporting evidence-based initiatives that make Lexington a safe place to live and work for everyone. 
Angela C. Evans made history in 2022 when she was sworn in as the first African American county attorney in Kentucky. A native of Lexington, Evans is the Fayette County Attorney. With a heart for service and justice, Angela works to ensure political candidates, businesses and individuals abide by the same rules and are treated fairly by the Commonwealth of Kentucky. 
With more than two decades of service as a lawyer and public official, Angela provides a deep and proven understanding of policy and the legislative process to her role as county attorney. She previously served as the 6th District Council member on the Lexington Fayette Urban County Government Council for three elected terms. Elected in 2015, Angela became only the second woman of color to serve on the council. A voice of reason, always ready to ask difficult questions and address challenging issues, Angela garnered national attention in 2018 while addressing the removal of Confederate statues from downtown. Her effective and eloquent remarks to urge her fellow council members to relocate the statues led to an invitation to appear on MSNBC Live with Hallie Jackson to discuss how Lexington navigated a divisive topic with civility. 
As a council member, Angela served on Lexington's Homeless Prevention and Intervention Board, which ensures efficient and effective systems are in place to provide access to shelter, food and other basic needs. Through her undergraduate studies in social work at Clark Atlanta University, later as a public defender and during her public service career, Angela has witnessed the devastating impact poverty can have on individuals, their children and generations beyond.  
Angela has bipartisan experience at the highest levels of state government, previously serving as general counsel to Trey Grayson, former Secretary of State, and assistant attorney general to Jack Conway, former Attorney General. Angela also has experience as a legal director; an attorney, partner and owner of her firm; an associate attorney; and a staff attorney during her career. She also served as an expert meeting editor for the United Nations Criminal Justice Handbook Series after spending time in Uganda and working with the Zion Project.
Angela's educational path has ranged from Clark Atlanta University, an HBCU in the epicenter of the Civil Rights Movement, for her bachelor's degree, to the Tennessee flagship university of University of Tennessee for her law degree, and to the halls of the Ivy League with a Master of Public Policy at Princeton University as a John L. Weinberg Mid-career Fellow.
The overarching principles of Angela's life are serving others and living by the golden rule. Early in her academic career, Angela was drawn to solving complex problems that were negatively affecting people's quality of life. Her policy interests include reducing poverty and providing social services that improve people's lives.
As the first elected African American Fayette County Attorney, Angela is committed to the people, believing every citizen deserves equal and just treatment under the law. Her entire career has not been focused on her success, nor being the first, but on protecting individual rights and in the service of people. She understands smart prosecution equals safer communities, and moral prosecution equals a fairer society that nurtures the worth of all people regardless of identity, economic status, or zip code.       
How can we
help you today?
Speaking Engagement
Requests
Schedule a
Media Interview